8 Post construction cleaning tips
Cleaning a home after construction is a necessary cleaning procedure, without which the new facility will not delight you with comfort. Of course, you can always turn to a cleaning company whose employees are ready to carry out a comprehensive cleaning of the premises quickly and efficiently.
But it is also quite possible to put the apartment in order yourself, if you listen to the advice of professionals and properly plan all the steps!
Cleaning after construction always consists of several phases. Dividing this major cleaning job into phases is the only way to get the premises in a clean condition as soon as possible.
A complex cleaning after construction consists of the following 8 main phases:
Preparation of cleaning tools and detergents
Cleaning of construction waste
Cleaning of surfaces
Cleaning of the floor cleaning of walls and ceilings
Preparation of furniture and other furnishings
Cleaning of windows and glass surfaces
Finishing
All phases of post-renovation cleaning have several features that require specific tools and methods. To make the task of cleaning after renovation easier, ask your friends or family for help. We advise you to do the cleaning after renovation with a team of helpers, which will greatly simplify and speed up the entire process.
1. preparation of cleaning tools and detergents
Before you start cleaning after construction, you should take care of everything that is needed for this event.
First of all, you need to prepare:
Garbage bags – they must be large and tight.
Solvents – benzine, acetone, etc., to easily remove dirt from various surfaces.
A powerful vacuum cleaner: industrial models are best for this purpose.
A range of cleaning products – for floors, plumbing, glass, wood and plastic surfaces.
Professional cleaners do a great job of removing dirt. They are a bit more expensive than traditional cleaners, but the results will be great.
Rags, sponges – choose microfiber products that absorb well and do not leave streaks; prepare rags in bulk and different sizes as you will be using them for floors, furniture, window sills, mirrors, etc.
Floor cleaning kit – mop, bucket, shovel with brush or broom.
Wear rubber gloves when cleaning. It is also worth buying special clothes and protective equipment for the face (glasses, respirator), if possible. When cleaning, do not forget to use personal protective equipment.
The stepladder makes cleaning much easier. It is more practical and safer than chairs when working at height.
2. cleaning of building rubble
Before you begin post-construction cleaning, clear the room of all debris that has accumulated during construction and remove the dust.
First, take out the bulky waste. Store any remaining wallpaper, drywall, fiberboard or linoleum in piles closer to the exit or outside the home to save space.
Gather wood, plastic, and metal (pieces of baseboards, moldings, laminate, etc.), the remnants of tile, foam siding, and put it all in bags.
First and foremost, you need to get rid of hazardous waste: Chemicals, glass wool, etc. We recommend disposing of these immediately after construction is complete. If for some reason this is not possible, you should carefully pack these wastes in garbage bags and dispose of them at the end with the rest of the waste.
It is necessary to take the construction waste to specially designated places.
Sweep and vacuum the premises thoroughly, and then wipe all surfaces from dust.
Cleaning of surfaces during cleaning after completion
3. Cleaning of surfaces
The main phase of end-of-construction cleaning begins after the bulky waste has been removed. It is important to carefully examine all rooms to analyze which areas need more thorough cleaning. Before cleaning, you need to carefully inspect the work area and analyze the sequence of actions. As a rule, the floor, walls and ceiling require the most attention.
Thoroughly clean the surfaces from dust, remove traces of paint or whitewash with a solvent or water.
If there are pieces of dried putty, plaster, cement, glue, foam or sealant anywhere, carefully cut them off with a box cutter or scrape them off with a putty knife.
You can use a scouring pad and warm water to remove traces of cement and other construction compounds.
It is advisable to vacuum the floor, walls and ceiling with a vacuum cleaner that will remove even the smallest dust particles from all corners.
Wash the cleaned surfaces thoroughly with suitable cleaning agents.
You can clean painted surfaces with a damp cloth.
A vinegar solution mixed with salt water perfectly removes dirt or dust from smooth surfaces.
Floor cleaning during construction cleaning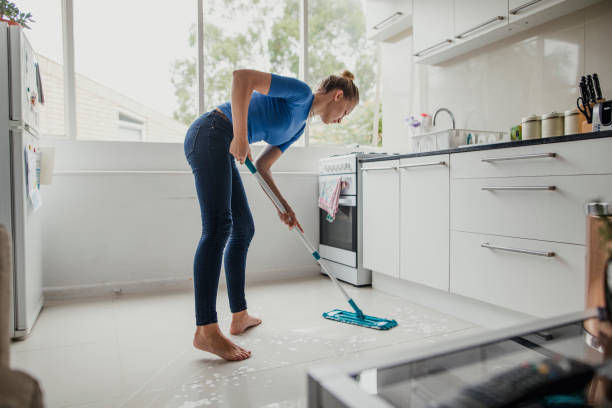 4. cleaning the floor
Floor cleaning as part of post-renovation cleaning of a home should be the most thorough phase.
Clean the surface of construction dust, rinse it with water, then dry it and vacuum it.
Use appropriate cleaning products for the type of flooring you have. In particular, wipe linoleum and laminate floors with a sponge dipped in mild soapy water.
More aggressive chemical compounds are suitable for porcelain stoneware and tiles, while high -quality care products containing oil or wax are suitable for parquet or floorboards.
Wash linoleum with a soft sponge dipped in soapy water.
If there are traces of dried varnish or paint on the flooring, remove them with a special remover or denatured alcohol.
You can easily remove light soiling with normal alcohol.
Wall cleaning during construction cleaning
5. Cleaning after construction also includes cleaning walls and ceilings
Remove dust from walls and ceilings easily with a telescopic vacuum cleaner. The telescopic tube of the vacuum cleaner will help you reach hard-to-reach places.
Use a damp cloth with mild detergents to clean plastered or painted walls without damaging them.
If there are traces of tape, glue, and fresh paint on surfaces, the easiest way to remove them is with a swab dampened with benzine.
Choose a metal washcloth or hard scouring pad to remove dried polyurethane foam.
To remove traces of rust, use a copper sulfate solution.
Treat surfaces in bathrooms with chlorinated agents, then rinse and wipe dry.
Preparing the furniture after the construction cleaning
6. Preparing the furniture
When the renovation is finished and you have completed the main steps of post- cleaning, bring the furniture into the room.
If they are new, it is enough to remove the protective films, vacuum the soft parts and thoroughly clean all smooth surfaces from dust.
After repairs, thoroughly vacuum the surfaces of upholstered furniture. If the furniture remains unchanged, clean it, remove stains, refresh the upholstery and polish the smooth elements. To do this, use detergents for textiles, leather and wood, as well as a washing or regular vacuum cleaner, non-abrasive sponges and microfiber napkins.
If necessary, chemically clean the upholstered furniture and treat the wood with special impregnations.
Use special agents for leather goods. Do the same with carpets and curtains. Wash or clean the textiles.
If there are traces of grease or other organic dirt on the furniture, an alkaline agent and vinegar or citric acid will help remove them.
Do not forget about wardrobes and built-in household appliances. Clean all items from the inside and outside, thoroughly degrease surfaces, clean them from dust, and then wet clean using detergents.
7. cleaning of windows and glass surfaces
Washing window frames, if you are cleaning after construction, depends directly on the material from which they are made.
The PVC profile is very easy to clean. All detergents, including those containing ammonia or acids, are suitable for this purpose. It is enough to wipe the surface with a normal sponge soaked in a suitable composition, and then remove the traces with a clean cloth.
Wooden frames are a little more difficult to clean. Here, diluted dishwashing detergent is very helpful. We recommend leaving the solution on the surface for 15-20 minutes and then rinsing it off to remove stubborn dirt. Repeat the process if necessary.
Remove all stickers from the window profiles. You can use a spatula to do this and then remove any adhesive residue with alcohol.
Use alcohol-based products to clean glass surfaces.
Clean glass windows with commercially available products. Alcohol-based formulations that do not leave streaks are most effective.
For cleaning windows from the outside, it is best to get professional help, especially on upper floors.
8. Completion of cleaning
Cleaning after renovation is the most time-consuming and complex process in the field of cleaning. The last thing is cleaning the remaining elements of the furnishings: heating radiators, lamps, curtains, etc. It is necessary to remove dust from them, rinse and dry removable parts, and reinstall them. 
Wipe heating radiators. 

Do not forget about such an element as ventilation grilles. Clean off the dust, including construction dust, and then wipe with soapy water. Usually, the ventilation grilles are very clogged during the renovation and need to be thoroughly cleaned. 
Conclusion of our Post Constuction Cleaning Tips Post: 
Post construction cleaning service, the price of which is the spent effort and money, can seem like an extremely tedious long process. But enjoying the completion of the construction works without going through this stage is not possible.
It is worth planning everything, sensibly assessing the amount of work and the ability to master it yourself. If necessary, still contact the professionals in post construction cleaning services.
If you need assistance with your apartment or house cleanup, then feel free to get in touch with us today- We have post construction cleaning services that can help you.